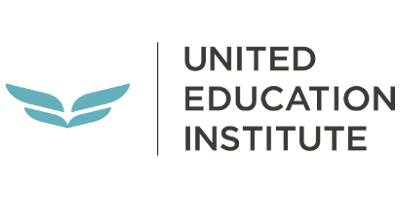 UEI
Hybrid Learning - online learning with hands-on training in the labs on campus
At UEI College and United Education Institute, our supportive faculty and staff are committed to helping you build a life and a future you can be proud of! We have dedicated financial aid representatives who will meet with you one-on one-to help you explore your payment options. Tutoring is available for when you need extra help and once it's time to look for jobs, a dedicated career services representative will help you with your resume, inter-view skills and employer connections!
Here are just a few more things you can expect from UEI:
Preparation for a career in as few as 10 months*
Daily support and guidance from a committed faculty and staff
Day and evening classes
Ongoing enrollment
Job placement assistance**
Financial aid is available for those who qualify
If you don't have your High School Diploma, ask us about your options! As a student in our eligible career pathway program, you'll have the opportunity to earn your High School Diploma while you complete your career training!***
Our school is accredited and ready to get you started on your path to success.*
At UEI, "We put U First."™
Location
Programs
Accreditation
*Morrow is accredited by the Accrediting Council for Continuing Education and Training (ACCET).
United Education Institute in Las Vegas is accredited by the Accrediting Commission of Career Schools and Colleges (ACCSC).
United Education Institute in Morrow and UEI Colleges in Garden Grove, Chula Vista, Encino, Huntington Park, Ontario, Phoenix, Oceanside, Stockton, and West Covina are accredited by the Accrediting Council for Continuing Education and Training (ACCET).
Disclosure
*Timing varies by program. | **UEI does not promise or guarantee employment to any student or graduate. | ***Not all programs are eligible. | Program offerings vary by campus.
For more information on our graduation rates, median student debts, etc., please click here.